Following Successful Evaluation, GOSH Team Shares Results in Award-Winning Presentation
A recent evaluation of the SEEKER® digital microfluidics (DMF) platform in the United Kingdom demonstrated its fit-for-purpose as a routine first-tier solution for newborn screening of lysosomal storage disorders (LSDs).
The evaluation was conducted by Rohit Hirachan at the Great Ormond Street Hospital (GOSH) Institute of Child Health laboratory. Mr. Hirachan spent August 2022 through May 2023 using SEEKER to run assays on dried blood spot samples for four LSD assays: MPS I, Pompe, Fabry, and Gaucher diseases.
Last month he shared study results as a poster and oral presentation at the annual British Inherited Metabolic Diseases Group (BIMDG) annual conference, winning Best Presentation among junior member colleagues
"Evidence suggests that early treatment of LSDs leads to more favorable outcomes," stated Mr. Hirachan from the stage. "DMF could be a wonderful addition to newborn screening as a first-tier test in specialized laboratories."
Dr. Derek Burke, Laboratory Manager and Lead Healthcare Scientist for the Enzyme Laboratory at GOSH, and Mr. Hirachan's supervisor, applauded Rohit for his exceptional performance. "Rohit did a fantastic job, in both the evaluation and the presentation. His award was well deserved,"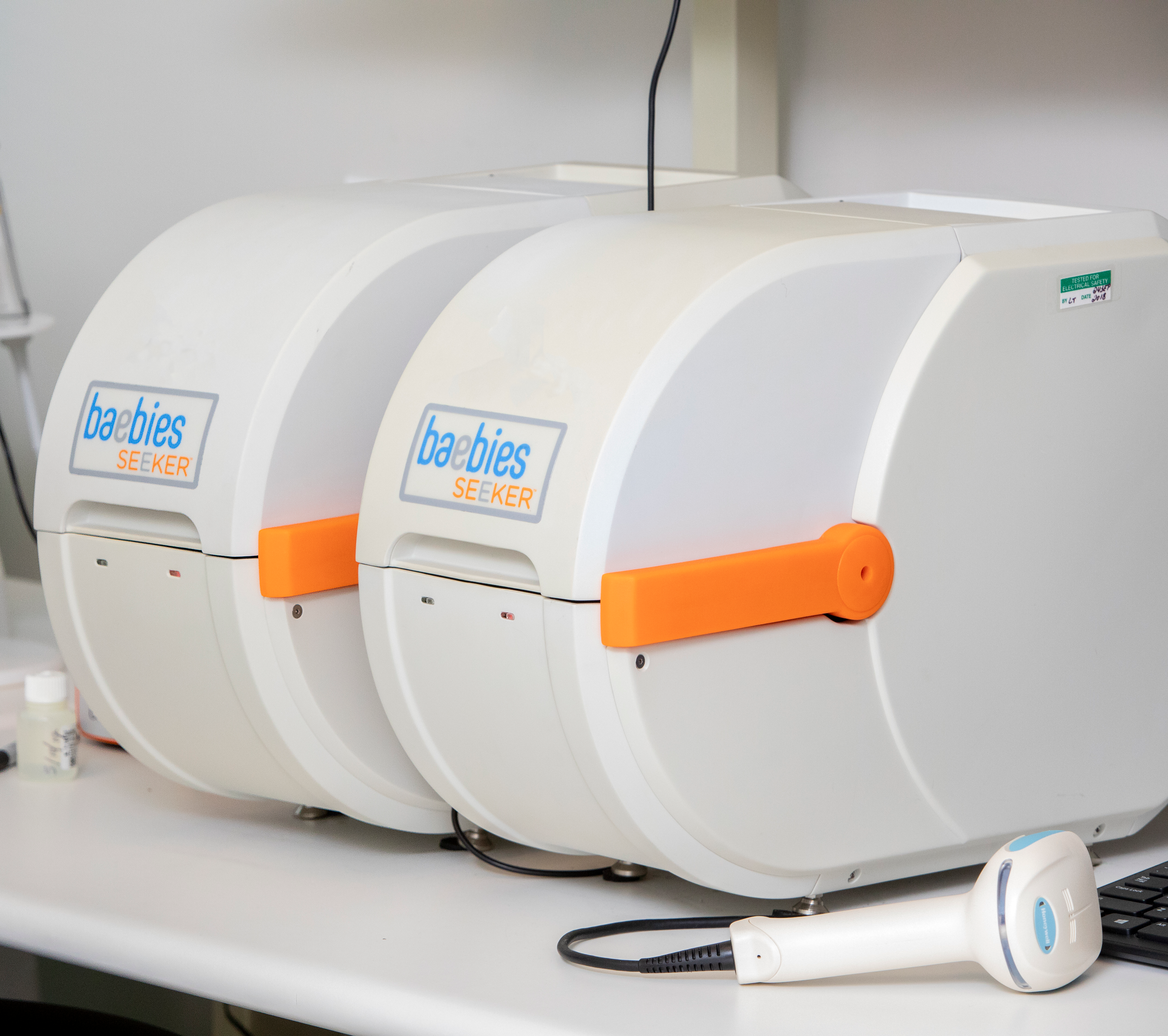 Dr. Burke was also thrilled with the evaluation findings. "An attractive component of microfluidics is that it utilizes the lysosomal enzyme assays we know – the same components, substrates, co-factors, and inhibitors – and on a much, much smaller platform," he noted.
"The device does most of the work for you and delivers results in a fraction of the time compared to current methods employed in our lab," he added.
The Baebies Newborn Screening team extends their heartfelt thanks to Dr. Burke and the GOSH Institute of Child Health team, Dr. Professor Simon Heales of University College London, GOSH, National Hospital for Neurology and Neuroscience, and to Technopath Distributors Limited for their essential roles in the success of this project. Our tremendous gratitude goes to the Mucopolysaccharidosis Society (MPS) UK for their generous funding of this pivotal evaluation.
At Baebies, we view every opportunity to demonstrate the SEEKER digital microfluidics (DMF) platform as a chance to bring newborns one step closer to a healthy start and healthier life.