Using a Digital Microfluidics Disposable Cartridge in a Near-Patient Platform
This study demonstrates feasibility of CMV PCR assays from newborn saliva in a digital microfluidics (DMF) disposable cartridge to enable rapid (4-7 minutes), in-hospital newborn screening to identify newborns with cCMV.
Congenital cytomegalovirus (cCMV) is a leading cause of hearing loss and intellectual disability.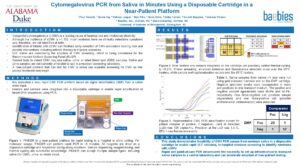 Although the incidence of cCMV is ~1:150, most newborns have no clinically detectable symptoms and, therefore, are not identified at birth. Identification of infants with cCMV can facilitate early detection of CMV-associated hearing loss and provide interventions including antiviral therapy to improve outcomes.
Rapid and point-of-care PCR circumvents the necessity to set up infrastructure to transport saliva samples to a central laboratory and can accelerate adoption of near-patient testing.
Click here to watch an in-depth presentation of how DMF works to rapidly detect CMV.