At Baebies, we recruit interns who work on real business cases. Our interns don't file papers or make coffee runs. They assist in research and development to help more babies have a healthy start.
"Our interns contribute to research projects that lead to commercialized products," said Lisa Nelson, Senior Scientist at Baebies and direct manager to several current interns. "Similar to hiring staff, we look for interns who are intellectually curious,  self-driven, and passionate about research. These qualities are essential to our mission to save lives, and make lives better for millions of children."
Meet our Elite Eight
This summer we have 8 interns who are actively working on the expansion of our assay pipeline and on new product FINDER (currently under development).
Most of our interns have degrees from nearby North Carolina State University and Duke University, but we also have current Masters students from the University of Missouri-Columbia and the University of Texas at Dallas. These "Elite Eight" also have a range of degrees, from a recent undergraduate in engineering to a Ph.D. in microbiology.
Collaborative, Meaningful Work
Baebies interns don't operate in their own bubbles. When asked what they like most about working at Baebies, two aspects ring true for all:
Friendly, collaborative team
Meaningful work that will actually help people
"I have enjoyed working in Baebies' fast-paced, collaborative, and innovative environment, and am excited to help bring a product to market which can profoundly improve the standard of healthcare for newborns," commented Sriram Gaddamanugu who is working on the FINDER product.
What's Next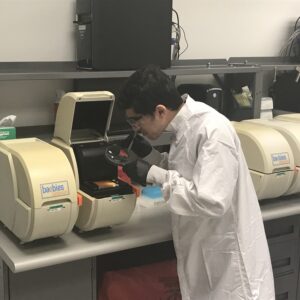 Our interns have made an impact at Baebies and will continue to change the world as their careers progress. Our diverse group includes an MBA candidate, an aspiring dentist, and a future tissue engineer to name a few.
Becky Kitchener, Ph.D. summarized it well: "This internship has really shown me that I want to continue doing challenging work that matters."
Baebies internships are posted in the usual spots: on our website, external job sites, social media, and university career services portals. But half of our current interns found out about the opportunity through personal connections to Baebies employees. If you are interested in working at Baebies, we encourage you to reach out to our employees for referrals.
Check out our internship and career opportunities.
Follow us on LinkedIn and subscribe to BaebieTalk newsletter to stay updated.