We're celebrating International Women in Science Day by spotlighting our CLIA laboratory team! Staffed entirely by women, these scientists are driven by our mission and passionate about finding answers that will help bring timely and proper treatment to those who need it.
Meet the CLIA Laboratory Team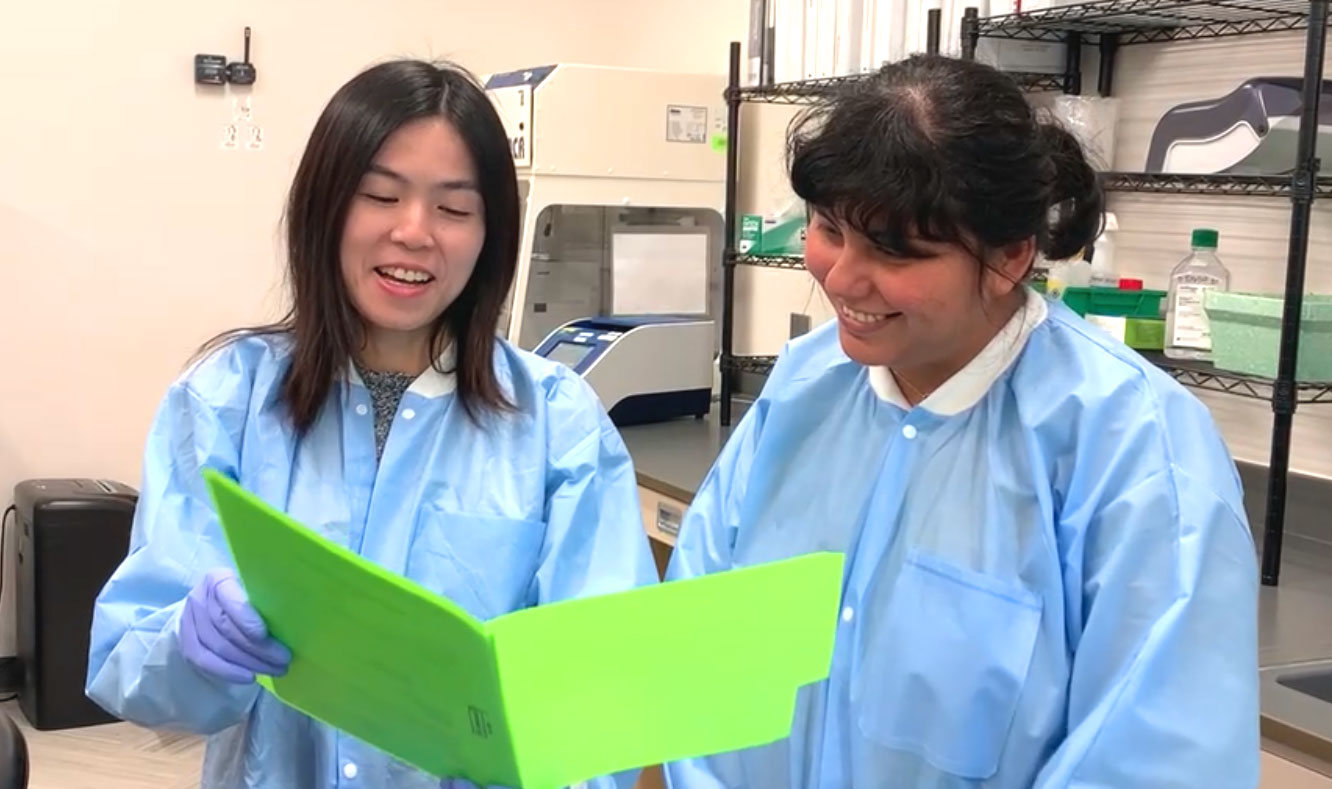 Dr. Zheni Shen, CLIA Laboratory Director
"I've always liked biology since I was very young," shares Dr. Shen. She pursued a 5-year undergraduate program as a medical student and earned a Bachelor of Medicine majoring in Basic Medical Science. The curriculum allowed her to study both clinical and scientific research. "Seeing many clinical cases that were not curable inspired me to further study the underlying mechanisms of diseases and discover possible solutions."
Alyssa Charamut, Clinical Molecular Technologist
Alyssa has always loved the challenge of a puzzle. Since she was in 5th grade, she's been fascinated by DNA. "When I was a kid I thought, how can something so small have so much information and make such a big impact on life?"
She went to a small North Carolina school in a rural town and felt fortunate to be in small classes and even smaller, targeted honors and AP classes. It helped fuel her desire to pursue a career in science. Alyssa concentrated her studies on Forensic Science and earned her Bachelor's degree in Biology at Western Carolina University. Eventually, she would like to earn her Master's in genetics or lab science.
Diana Sedano, Clinical Laboratory Scientist
Diana remembers the moment she decided science was her calling. "I was watching a TV show about manipulating genes in fruit and vegetables and the variety of ways it affected plants," she recalls. "It inspired me to seek classes that would increase my knowledge of DNA and genetics."
Diana attended community college classes while still in high school then entered NC State University as a Biology major. She quickly discovered there are many ways to achieve your goals. "I didn't get the concentration I wanted so was advised to pursue internships and lab work along with my courses – that it would be equivalent to the information learned in the program."
Following this advice, she volunteered in labs, doing basic support until she finally "got under the hood!" and subsequently found a paying job at the State Lab of Public Health. Because of her hard work and persistence, she was offered a full-time position upon graduation.
What do they love about what they do?
"Being the director of the CLIA Lab and working with this team, I feel I'm really doing a very meaningful thing," states Dr. Shen. "I love my role and am very dedicated to delivering timely, state-of-the-art testing results to our clients, excluding or discovering disease and possible indications for proper treatment." She is also proud that their work connects different functions at Baebies and helps form an integrated department.
Alyssa has always been driven by putting evidence together to solve problems and loves that her role allows her to do that for patients needing solutions to critical medical challenges.
"It's a great feeling knowing you are giving people results, the answers they need, so they can get the right treatment," shares Diana. "We are potentially saving someone's life."
What advice would you give girls who love science and may want to pursue it as a career?
"Go for it!" replies Alyssa enthusiastically. "The sky's the limit. If you set your mind to it, you can do it. Look at obstacles as a way to get stronger."
"Just like doing anything, interest and persistence are the two most important factors," advises Dr. Shen. "Take several science classes and rotate in several labs to get a better understanding and confirm your passion for science and the specific subfield. Interest and persistence will naturally lead your way to the right track."
"Put yourself out there or you may get overlooked. Don't hesitate," encourages Diana. "They will notice you if you are eager to learn and do what it takes. Ask for opportunities because there are people willing to help you. If you get a 'no,' find another opportunity and try again!"
---
February 11, 2023